Summits of the Wallis
9 four thousand meter peaks in one week
The world-famous Swiss village of Zermatt is our starting point for this difficult high altitude tour. We collect on classic ascents of ascent to 14 four thousand meter peaks. Our bases for this adventure are the cosy Italian huts, from where we often have only short distances to the highest summits. One night we stay in the highest hut of Europe, the Rifugio Margerita (4.556 m).
We start on Monday evening. So you have the week-end to acclimatise.
Daily routine
Day 1
Meeting point is at 6:00 p.m. at the 'Hotel Tannenhof' in 'Zermatt'. Telephone (Switzerland) 00 41 - 27 - 96 73 188. After dinner, we check the equipment.
overnight stay: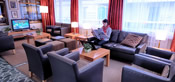 Hotel Tannenhof
Termin Buchen
Aktuell sind leider keine Termine verfügbar.
Sie können diese Tour jedoch bei uns Anfragen.
1395,00 €
Details
Duration: 7 days, Monday to Sunday
Services:
Participants: 2-3 people
Meeting point: 6 pm, Zermatt Hotel Tannenhof
Region: Wallis Alps (Switzerland, Italy)
Detailed information in PDF format
Information Summits of the Wallis (303,89 kB)