Klettersteige of the Brenta
Towers, ridges, sides
A special geological formation allows mountaineers the unique possibility of walking on horizontal sides through the vertical rock area of the Brenta. Well secured klettersteige and trails, like the Bochette trail or the Giro del Brenta are famous names and promises to everybody – also the klettersteig beginners - an adventurous week.
Daily routine
Day 1
Our meeting point is at 4:00 p.m. at the Grosté gondola at the end of the village of Madonna di Campiglio (1.550 m). Up with the cable car to the station Pian del Grosté (2.085 m) from where we continue uphill by foot to the Rifugio Graffer (2.261 m). Telephone (Italy) 00 39 – 04 65 – 441 358.
Hiking time approx. ½ hour, ascent 200 m.
overnight stay: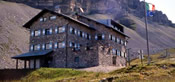 Rifugio Graffer
Termin Buchen
Aktuell sind leider keine Termine verfügbar.
Sie können diese Tour jedoch bei uns Anfragen.
845,00 €
Details
Duration: 6 days, Sunday to Friday
Services:
Mountain guide
5x half pension
2x cable car
Equipment
Participants: 4 - 6 people
Meeting point: 4 pm, Madonna di Campiglio
Region: 'Brenta' (Italy)
Detailed information in PDF format
Information Klettersteige of the Brenta (310,18 kB)