Snow shoe Hörnertour
Snow shoe weekend with hut romanticism
You can either hibernate through the long winter, spend it on a palm treed island or you enjoy it where it is the most magical - in the mountains. Snow shoes enable the non-skier to intensively experience the fascinating winter world. Thanks to the modern designs the snowshoes are light and can be handled without any difficulty. Already after a short time you will enjoy crossing the famous Oberallgäuer Hörner chain, accompanied by an experienced mountain guide.
The choice of the route depends on the snow conditions and can be changed accordingly.
Daily routine
Day 1
Our meeting point is at 10:00 a.m. at the OASE AlpinCenter. Together we travel by taxi over the Riedberg pass (1.420 m) to Grasgehren (1.447 m). Already after the first hiking attempts in the fairly level Bolgenmoos we get used to the snow shoes and start our tour towards the Riedberger Horn peak. After a gentle 2 hours ascent we reach the summit (1.787 m). We descend after a well earned summit break, where we have an awesome view of the Allgäu mountains far into Switzerland. The trail down is steep at the top and levels out somewhat via the plateau of the idyllic Bolgen valley to the Berghaus Schwaben hut (1.520 m).
Hiking time approx. 4 hours, ascent 400 m, descent 300 m.
If conditions permit it is possible to ascend the Großen Ochsenkopf peak (1.662 m) in the afternoon.
Hiking time approx. 1,5 hours, ascent 150 m, descent 150 m.
overnight stay: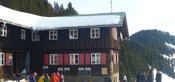 Berghaus Schwaben
Termin Buchen
Aktuell sind leider keine Termine verfügbar.
Sie können diese Tour jedoch bei uns Anfragen.
210,00 €
Details
Duration: 2 days, Saturday to Sunday
Services:
Mountain guide
1x half pension
2x bus transfer
equipment
Participants: 6 - 12 people
Meeting point: 9 am, OASE AlpinCenter
Region: Alps of the 'Allgäu' area (Germany)
Detailed information in PDF format
Information Hoernertour Snow Shoe Weekend (309,2 kB)