Haute Route
on the original route
The classical Haute Route, situated in the Alps of the Wallis, is and remains one of the greatest goals for every ski-touring enthusiast. Towards the end of the winter, between April and May is the most favourable time to attempt this classic of all ski traverses. At this time of the year the corn snow is probably at its best, the days are longer and considerably warmer and there are fewer skiers on the route. The valleys bottoms start to turn green with the new groth. All this is part of the Haute Route experience that so many ski tourers are dreaming of. To be able to leave your own tracks in this gorgeous landscape, to stay in mostly empty huts and to appreciate the good avalanche conditions you will find this time of year.
Daily routine
Day 1
Our meeting point is at 12 oclock at the gondola Grands Montets in Argentière (1.252 m). We take the gondola to the summit station (3.233 m). From here we ski down the Argen-tière glacier. The Refuge (hut) Argentière (2.271 m) we will reach after a short climb.
Hiking time approx. 2 hours, ascent 200 m.
overnight stay: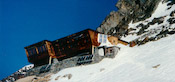 Refuge d' Argentière
Termin Buchen
Aktuell sind leider keine Termine verfügbar.
Sie können diese Tour jedoch bei uns Anfragen.
795,00 €
Details
Duration: 7 days, Saturday to Friday
Services:
Mountain guide
avalanche transceiver, shovel.
Surcharges: 6 x half pension, 1 x cable car, 2 x taxi transfer
Participants: 4 - 5 people
Meeting point: 12 am, cable car Grands Montets, Argentière
Region: Walliser Alps (Switzerland), Mont Blanc-Group (Italy, France)
Detailed information in PDF format
Information Original Haute Route (299,4 kB)