Tour Monte Rosa
Magnificent hike on the traces of the Walser around the Monte Rosa
TMR - the abbreviation for Tour Monte Rosa. On this fine, eight days long, hiking adventure around the biggest alpenstock we walk nearly 160 km on challenging Walser mountainous trails. This Euro-pean hiking route leads us from Randa to Grächen (1.619 m) and onto Saas Fee (1.772 m), up to the Monte Moro pass (2.868 m), the Colle del Turlo (2.738 m), the Colle di Bettaforca (2.672 m) and the Theodul pass (3.317 m), past the Theodul glacier to Zermatt and finally to Sunnega (2.288 m). At the end of each and every day the hiker will go to bed elated and tired, left with many wonderful experiences and impressions. The one, who walked the entire TMR, earns respect and should be proud to have accomplished a great feat! Congratulations!
Daily routine
Day 1
Meeting point is at 12 oclock at the car garage Schaller in Täsch. Transfer by bus to the Täschalpe (2.187 m). Via the European hiking route we reach the European hut (2.280 m), which offers us an imposing view of the Weißhorn peak.
Hiking time approx. 3½ hours, ascent 550 m, descent 300 m.
overnight stay: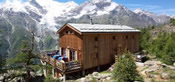 Europahütte
Termin Buchen
Aktuell sind leider keine Termine verfügbar.
Sie können diese Tour jedoch bei uns Anfragen.
1125,00 €
Details
Duration: 8 days, Saturday to Saturday
Services:
Mountain guide
5 x half pension
2 x B&B
7 x cable car
1 x taxi
Participants: 6 - 12 people
Meeting point: 12 am., Autogarage Schaller in Täsch
Region: Wallis (Switzerland)