Panorama Trail around Zermatt
Hike in the festival-hall of the four thousand meter peaks
Zermatt, the idyllic mountain village at the bottom of the world famous Matterhorn (4.478 m), is situated 1.620 meters above sea level and is surrounded with many 4.000m peaks.
The imposing glaciers and mountain tops lend this village its special charm. Zermatt is a wonderful resort for both sport and convalescing with a unique climate. There is no motor vehicles in Zermatt, instead horsedrawn carriages and electric vehicles serve as the means of transport within Zermatt. The Matterhorn rises above Zermatt, the powerful monarch of the mountains, the sphinx of the Alps, majestic as a gothic cathedral it is one of the most beautiful mountains of the Alps. With this mountain as our background we walk on a trail around Zermatt and hike through 5 different valleys in front of this awesome panorama of the four thousand meter peaks.
Daily routine
Day 1
Meeting point is at 2:00 p.m. at the train station in Täsch in the Matter valley. We begin our journey ascending the Täschberg and the Eggenstadel to Ottavan. We spend the night in the Täsch hut (2.214 m).
Hiking time approx. 2½ hours, ascent 750 m.
overnight stay: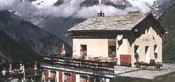 Täschalpe
Termin Buchen
Aktuell sind leider keine Termine verfügbar.
Sie können diese Tour jedoch bei uns Anfragen.
845,00 €
Details
Duration: 6 days, Sunday to Friday
Services:
Mountain guide
5 x half pension
1 x taxi
Participants: 6 - 12 persons
Meeting point: 2 p.m., Trainstation Täsch
Region: Wallis (Switzerland)
Detailed information in PDF format
Information Panorama Trail around Zermatt (301,5 kB)