E5 from Rovereto to Verona
3. Part of the European Hiking Route
The European hiking route E5 leads from the Lake Constance to the historic city of Verona at the foot of the Alps of Lessin. On this tour we cover the southern, and the least known part of the E5. We begin at one of the most beautiful sections of this hiking route. By walking over the fissured lime-stone of the Monte Pasubio we cross plateaus, ridges and gorges. The vistas are spectacular and if the weather is good you can see the Adria, Lake Garda and the Dolomites from here. This part of the route was violently fought over during the First World War and you can still find evidence of times past. Wildflowers are abundent here with their vivid colours. The Mediterranean climate is responsible for the wide variety of flowers that thrive here. Through the secluded limestone valleys of the Monte Lessini peak we finally reach the medieval Verona on the Etsch river. A highlight of our tour is the visit to the opera at the famous Arena of Verona.
Daily routine
Day 1
Our meeting point is at 4:30 p.m. at the train station of Rovereto. A taxi will pick us up and drive us to the well managed Rif. Coe at the Coe pass (1.600 m). We start with a short warm up tour to the Sommo Alto peak (1.600 m). For the night we stay in the Rif. Coe.
Hiking time approx. 1½ hours, ascent 150 m, descent 150 m.
overnight stay: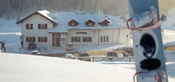 Ristorante LA STUA, Passo Coe
Termin Buchen
Aktuell sind leider keine Termine verfügbar.
Sie können diese Tour jedoch bei uns Anfragen.
875,00 €
Details
Duration: 7 days, Sunday to Saturday
Services:
Mountain guide
5x half pension
1x museum Rovereto
1x accommodation/breakfast
2x taxi
1x train transport
1x opera ticket
Participants: 6 - 12 people
Meeting point: 4.30 pm, railstation Rovereto
Region: Alps of the 'Trentino' and the 'Lessin' area (Italy)
Detailed information in PDF format
Information E5 - From Rovereto to Verona (591,78 kB)