E5 from Bolzano to Trento
2. Part of the European Hiking Route
We take the original route, traveled on by many generations of local farmers, through remote mountainous landscape. Our hike leads along the German-Italian language border to the well known, red rocks of Butterloch canyon and through vineyards to the romantic villages of Piazzo and Sabion and the earth pyramids of Segonzano. High above the Etsch valley we can take in the won-derful scenery of South Tyrol, the view from here includes Ifinger near Meran to Schlern, Rosengarten and Ortler.
Daily routine
Day 1
Our meeting point is at 3:00 p.m. in Bozen at the Kohlern gondola. We take the historic gondola to Bauernkohlern station (1.150 m). Short hike to the mountain guest house Schneiderwiesen (1.371 m), where we stay for the night.
Hiking time approx. 1 hour, ascent 250 m.
overnight stay: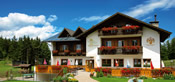 Gasthof Schneiderwiesen
Termin Buchen
Aktuell sind leider keine Termine verfügbar.
Sie können diese Tour jedoch bei uns Anfragen.
765,00 €
Details
Duration: 7 days, Sunday to Saturday
Services:
6x half pension
Mountain guide
2x bus transfer, 1 x cable car
1x museum
1x wine tasting
Participants: 6 - 12 people
Meeting point: 3 pm, Bozen, Kohlern Seilbahn
Region: South Tyrol (Italy)
Detailed information in PDF format
Information E5 - From Bozen to Trient (297,54 kB)