Dolomite Circuit # 1
Hiking the Alta Via # 1 delle Dolomiti
The Dolomite Trail has gained a reputation as the perfect path, particularly due to the incredible beauty of the surrounding landscape. This hike leads us through the most interesting regions of the eastern Dolomites. Our trail starts from Pragser Wild Lake, in the Puster valley, and takes along the main ridges of the major Dolomite groups to Belluno, situated at the southern edge of the Alps. The path follows the natural north to south route through the eastern Dolomites and is a pleasurable hike for every mountain enthusiast. The total distance of this hike is approximately 150 km, 60 km as the crow flies, and takes about 7 days. The main route has an average altitude of 2.000 meters and defenitly has an alpine caracter. In total we will cross over eleven Dolomite groups, the Pragser and Enneberger Dolomites, Fanes, Fanis, Nuvolau, Croda da Lago, Rocchetta, Pelmo, Civetta, Moiazza, Pramper-Dolomites and Schiara. Over three big Dolomite passes, the Passo Falzarego, Passo Staulanza and Passo Duran. Along this wonderful trail are 18 huts, all of them offer lodging, good food and local wine.
Daily routine
Day 1
Meeting point is at 6:00 p.m. at the Hotel Pragser Wild Lake (1.494 m) in the Puster valley. Tel. Italy (00 39) 04 74 - 74 86 02. Before dinner we go for a walk around the idyllic 'Pragser Wildsee'.
Hiking time approx. 1 hours, ascent 50 m, descent 50 m.
overnight stay: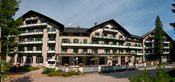 Hotel Pragser Wildsee
Termin Buchen
Aktuell sind leider keine Termine verfügbar.
Sie können diese Tour jedoch bei uns Anfragen.
825,00 €
Details
Duration: 7 days, Saturday to Friday
Services:
Mountain guide
6 x half pension
2 x taxi
1 x cable car
Participants: 6 - 12 people
Meeting point: 6 p.m., Hotel Pragser Wildsee
Region: The Dolomites (Italy)
Detailed information in PDF format
Information Dolomiten Circuit No 1 (315,23 kB)